11.1.06
Photos from Bobby's biography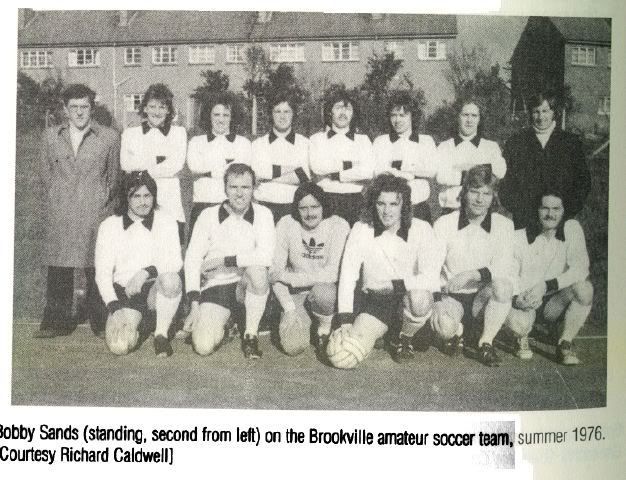 'Bobby Sands (standing, second from left) on the Brookville amateur soccer team, summer 1976.'
I will post some other photos from the book tomorrow, but this and the 2 following are from Bobby Sands' new biography:
Nothing But an Unfinished Song - Bobby Sands, the Irish Hunger Striker Who Ignited a Generation
By Denis O'Hearn
2006
Available from Amazon.com
>>here
.
Comments:
In response to an article headlined 'New Book is First Study of Bobby Sands', which appeared in a recent edition of the Andersonstown News, I wish to put the record straight.
According to the article, the author of the book, Denis O'Hearn, "thanks the hunger striker's sister Marcella for her help with the book." This suggests that I had "helped" or participated in some way in the compilation of this book and, therefore, endorsed it. This is misleading and untrue.
I wish to state categorically that neither I, nor any of my family, helped Mr O'Hearn with his book in any way, nor does my family endorse the book. Indeed, the opposite would be the case as his book contains numerous factual inaccuracies.
MARCELLA SANDS
Post a Comment
<< Home