16.1.06
Mála Poist: 'Sands author' replies
Irelandclick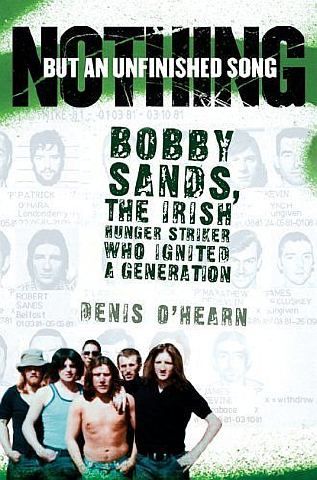 Thank you for your recent article about my biography of Bobby Sands, 'Nothing but an Unfinished Song'. I would, however, like to clarify a misleading aspect of the article.
Part of the article could give the mistaken idea that the Sands family participated in the research for the book. This is not so. I met Marcella Sands when I was beginning my research and she told me that the family did not feel that they could participate because they were writing their own memoirs and it would create a conflict of interest if they also helped me. I respected their decision and on numerous occasions when people asked me, I made it clear that Bobby's immediate family was not participating.
I did, however, ask Marcella for one small favour that would help me in my research and she consented. I thus mentioned her in a long list of about thirty people who helped me, in many cases in very small ways, in the research of the book. I did this as any author would do, as a simple matter of courtesy and proper acknowledgement. I also tried to extend a hand of friendship and respect to the Sands family, to recognise the enormity of what they endured. If I offended them in any way, I apologise.
I leave it to the readers of the biography to judge the quality of the book. The vast majority of the book takes place in prison, where Bobby Sands spent almost all of his adult life. I was blessed by the participation of nearly all of his closest friends and comrades.
Is mise,
DENIS O'HEARN
12.1.06
Family does not endorse book

**This morning on three different sites, I received the same comment, which I cannot personally validate but which I will re-post for prominence. The comment concerns the new biography of Bobby Sands entitled Nothing But an Unfinished Song, and reads as follows:

In response to an article headlined 'New Book is First Study of Bobby Sands', which appeared in a recent edition of the Andersonstown News, I wish to put the record straight.

According to the article, the author of the book, Denis O'Hearn, "thanks the hunger striker's sister Marcella for her help with the book." This suggests that I had "helped" or participated in some way in the compilation of this book and, therefore, endorsed it. This is misleading and untrue.

I wish to state categorically that neither I, nor any of my family, helped Mr O'Hearn with his book in any way, nor does my family endorse the book. Indeed, the opposite would be the case as his book contains numerous factual inaccuracies.

MARCELLA SANDS



11.1.06
Photos from Bobby's biography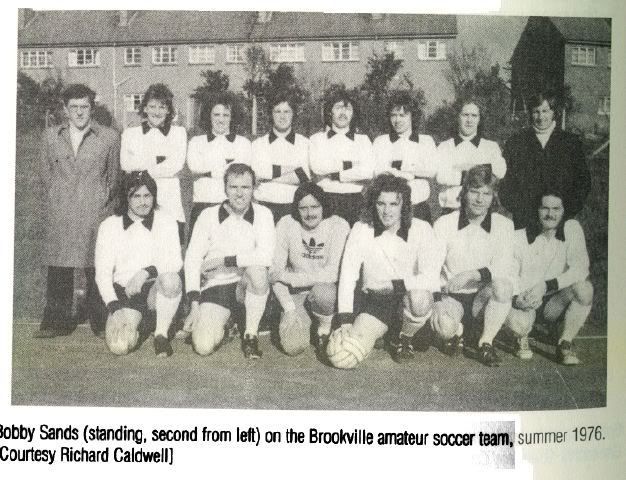 'Bobby Sands (standing, second from left) on the Brookville amateur soccer team, summer 1976.'
I will post some other photos from the book tomorrow, but this and the 2 following are from Bobby Sands' new biography:
Nothing But an Unfinished Song - Bobby Sands, the Irish Hunger Striker Who Ignited a Generation
By Denis O'Hearn
2006
Available from Amazon.com
>>here
.
Bobby - from 'Nothing But an Unfinished Song'
'The Willowfield Temperance Harriers on a training trip to the Mourne Mountains. Bobby Sands is kneeling, second from left.'
Bobby Sands
If you are like me, you have been waiting for the biography of Bobby Sands for a long, long time. I am going to put the pics of Bobby up from
Nothing But an Unfinished Song
because I'm sure many have never seen Bobby outside of the famous photographs that have circulated throughout the world in the almost 25 years since his death. I only wish there were more to post.
6.1.06
Interview - Remember them and celebrate their lives
An Phoblacht
"This year, the 25th anniversary of the 1981 Hunger Strike, is not just about remembering and commemorating the ten men who died it is about celebrating their lives.
"They were brave men whose courage and sacrifice should be celebrated in a positive way. Their bravery should be seen as something inspirational, especially in this new phase of struggle when we need to build on our continuing political progress."
So said Brendan 'Bik' McFarlane in an interview with An Phoblacht where he outlined the work of the National Hunger Strike Commemoration Committee in advance of the 25th anniversary of the 1980 and 1981 Hunger Strikes.
The North Belfast republican, who was the OC in command of republican POWs in the H-Blocks during the 1981 Hunger Strike, is a member of the committee tasked by the party to organise the year-long series of events to mark this year's anniversaries.
He was quick to point out that this year also sees the anniversaries of the deaths on hunger strike in English prisons of Michael Gaughan and Frank Stagg.
Gaughan died in Parkhurst Prison on June 3 1974 while Stagg died in Wakefield Prison on 12 February 1976.
According to McFarlame to republicanism in the past number of years, and that young activists in particular may not be familiar with the events of 1980 and 1981 so it is crucial that we use the coming year as a way of educating and raising people's awareness of that period.
The former H-Block prisoner also pointed out the irony that because of media censorship and especially the Dublin Government's Section 31 policy which barred republicans from the airwaves people overseas knew more about what was going on in the H-Blocks than a lot of people in Ireland.
"Censorship, in Ireland, had a lot to do with that but there was also the ingrained anti-republicanism that was part and parcel of the 26 County political establishment. We are seeing all this being played out through the antics of the present Dublin Government and Michael McDowell in particular.
"So for those reasons it is important that we use this year's events to bring republican politics to a wider in this new phase of political struggle."
During his interview McFarlane spoke of a recent visit to the H-Blocks in the company of South African Intelligence Minister Ronnie Kasrils and his wife Eleanor who travelled to Ireland in October.
McFarlane explained how Kasrils spoke of how the 1981 Hunger Strikes had a profound effect on the consciousness of the people in South Africa, especially those involved in struggle against the Apartheid Regime.
"The visit with Ronnie Kasrils and his wife Eleanor — who escaped from prison in South Africa — was very moving and profound.
"We were standing in the cell where Bobby Sands died in the hospital wing and I related the story of my first visit back to the cell in the company of a Sinn Féin delegation including Gerry Adams.
"Gerry asked us to gather around the bed and reflect quietly on those ten courageous men who gave their lives for the freedom of our country in 1981.
"That moment brought back the deep sense of loss we all felt in the H-Blocks when Bobby died. It also reminded me of the determination of the other Hunger Strikers to continue in their struggle to defeat Thatcher and the British attempt to criminalise our struggle.
"Ronnie Kasrils then asked those of us who were with him to also gather around the bed. All those in the South African delegation were so moved by the experience and what I think it tells us, as Irish republicans, is that the Hunger Strike was such demonstration of our commitment to be free that it inspired people throughout the world.
"We need to take that inspiration and determination and ensure that this year not only commemorates but celebrates our will to be free, to make politics throughout this island and bring about the dream of national and social liberation that so many of our friends died for."
3.1.06
Hunger striker buried
Daily Ireland
Sinn Féin MP Martin McGuinness delivered the oration at the funeral of former IRA hunger striker Matt Devlin in County Tyrone on Saturday.
Speaking to a large crowd Mr McGuinness paid tribute to Matt Devlin's commitment to the republican struggle.
Mr McGuinness said: " Matt Devlin was an inspirational figure.
"He was a deeply committed and principled man who spent his entire adult life immersed in the struggle against British rule in Ireland.
"He was a former IRA Volunteer, a former Hunger Striker and a political activist.
"He spent two long periods in prison, yet despite great personal hardships, including ill heath, Matt Devlin never gave up.
"He remained true to his republican ideals and beliefs.
"It was a testament to Matt's determination and courage that even when seriously ill he still put himself forward to stand for Sinn Féin in the last Southern elections.
"Matt continued to play a key role organising and building the party in Westmeath right up until his untimely death a few days ago.
"Matt's death is of course a massive loss to those republicans whom he worked with for over three decades and also a very personal loss for his close family."
2.1.06
IRA pledges to honour Maze hunger strike men
Irish Independent
Senan Molony
Political Correspondent
SINN FEIN and Provisional IRA members are planning to wrong-foot the Government's reclamation of the Easter Rising by reviving the spectre of the hunger strike.
This year not only marks the 90th anniversary of the 1916 rebellion but also the 25th anniversary of the 1981 hunger strikes at the Maze, which claimed 10 IRA and INLA lives.
While the Taoiseach has announced plans to "take back" the commemoration of the 1916 rising with a major Easter parade in O'Connell Street, the latest message from the IRA pledges to match that move with its own revisting of the era of the hunger strike - the most divisive period in recent Irish political history.
A hunger strike march on the British embassy in 1981 resulted in the Ballsbridge riot in which scores of gardai were injured, repeated baton charges were made and dozens of cars and houses extensively damaged.
The IRA New Year statement, issued yesterday and signed P O'Neill, declares: "We are mindful that 2006 marks the 25th anniversary of the hunger strikes and 90th anniversary of the Proclamation of the Republic in 1916. We look forward to popular celebrations and commemorations of these events."
The Government events are scheduled for April, whereas the Sinn Fein/Provo commemoration of the hunger strike seems destined for May. Bobby Sands was the first hunger striker to die, on May 5, 1981.
Unmasking
The IRA's New Year message makes no reference to the recent "Stormontgate" developments and the unmasking of senior Sinn Fein official Denis Donaldson as a long-term British spy.
In the first IRA message since the witnessed decommissioning of the entire IRA arsenal in September, the Provos "salute the discipline and commitment of IRA volunteers". The message hails the decisions by the "Army leadership" in 2005 as "momentous", adding that its membership remains "wedded to our republican objectives".
Although not spelt out in the message, those objectives will be pursued by peaceful means if they are to reflect the groundbreaking announcement last July that the IRA ordered an end to its armed campaign.
"We are confident that these objectives will be achieved," the IRA message adds, although its release is likely to anger unionists, who are unhappy that the organisation still hasn't "gone away".
The declaration commends the IRA's "comrades" in Sinn Fein, adding: "We send greetings to the republican activist base which has been so steadfast in the face of severe provocations this last 12 months."
It appeals for continued unity and determination in the year ahead.
"There is an onus on all political leaders to play their part in achieving the essential political progress desired by all the people of Ireland," the declaration says.
Released through the republican newspaper, An Phoblacht, the IRA leadership also sends New Year greetings to friends and supporters at home and abroad.
Hunger striker dies
Daily Ireland
Sinn Féin chief negotiator Martin McGuinness last night led tributes to former 1981 hunger striker Matt Devlin.
Mr Devlin will be laid to rest in Ardboe, Co Tyrone, this morning.
He was one of the H-block hunger strikers alongside Bobby Sands in 1981. He fasted from July 15 until September 4 that year. He died on Thursday aged 55 after a long struggle with illness.
Mid-Ulster MP Martin Mc Guinness last night expressed his sadness on hearing of the death of the former blanket man, hunger striker and Sinn Féin activist.
"It was with sorrow and sadness that I learned of the death of Tyrone republican Matt Devlin. Matt was a dedicated and committed republican who will be sorely missed by all who knew him.
"Matt was one of many Irish republicans who sacrificed much so that our children and our children's children will enjoy equality, justice, freedom and peace in a united Ireland.
"He endured much hardship because of his ideals and political beliefs, having participated in the blanket protest in Long Kesh before embarking of a hunger strike lasting 53 days, from which it is believed he never fully recovered," said Mr McGuinness.
The Sinn Féin MP extended his condolences to Mr Devlin's partner Geraldine, son Matthew and stepson Declan and to his extended family and former comrades.
Mr Devlin had been living in Tang, Co Westmeath, in recent years. He contested the last local elections for Sinn Féin.
Paul Hogan, the first Sinn Féin councillor to be elected in Athlone, paid tribute to Mr Devlin.
"He was chairperson of the Seán Costello/Martin Hurson cumann in Athlone, and he will be dearly missed," said Mr Hogan.
"He gave great guidance and leadership to Sinn Féin in Athlone and to me personally."
Coiste na nIarchimí chairman Raymond McCartney, another former hunger striker, also paid tribute to Mr Devlin.
"He was an esteemed colleague and someone who made a huge contribution to the struggle in the H-blocks. I extend my condolences to the family," he said.
Death at 55 of former H-Block hunger striker
Irish Independent
30 December 2005
Matt Devlin at age 31 years - photo from Bobby Sands Trust
THE death took place in Belfast yesterday of Matt Devlin, one of the H-Block hunger strikers alongside Bobby Sands in 1981.
Tyrone man Mr Devlin, who was 55, had been living in Tang, Co Westmeath, in recent years and contested the last local elections for the Sinn Fein party.
In 1981 he went on hunger strike for 52 days from July 15 to September 4 during one of modern Ireland's most critical periods.
Yesterday Paul Hogan, the first Sinn Fein councillor to be elected in Athlone, paid tribute to Mr Devlin.
"He was chairperson of the Sean Costello/Martin Hurson Cumann in Athlone, and he will be dearly missed," he said.
"He gave great guidance and leadership to Sinn Fein in Athlone, and to me personally."
Mr Devlin will be laid to rest in Ardboe, Co Tyrone, tomorrow morning. He is survived by his partner Geraldine, and two sons Declan and Matthew.