24.10.05
H-Block Martyrs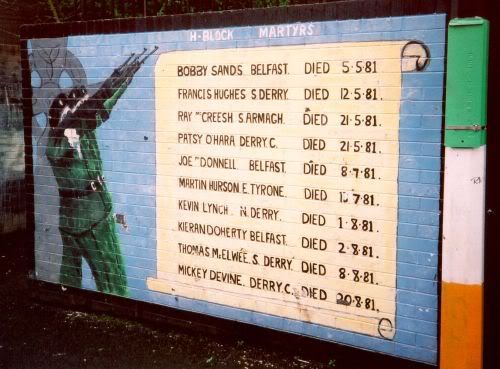 Photo from CAIN
3.10.05
IRA Maze hunger strikes at an end
BBC ON THIS DAY
03 October 1981
Senior Republican figures and inmates' families have indicated that the hunger strike in the Maze prison is effectively over.
>>VIDEO
Republican leaders yesterday visited Belfast's Maze prison to tell IRA prisoners that forcing concessions from the British government through the hunger strike was futile.
Although six IRA men are still refusing food, five of their families have made it clear they will authorise medical treatment once they lose consciousness.
Richard McAuley, of Provisional Sinn Fein said "unless prisoners can find a means of overcoming the intervention of relatives they must reassess the hunger strike".
Bobbie Sands began the protest in March. He threatened to fast to death unless terrorist inmates won concessions over living conditions.
Mr Sands died on 5 May. The other Republican prisoners in the H-Block of the Maze Prison then issued a statement in which they vowed to continue the hunger-strike unless their demands were met.
Former Northern Ireland Secretary Humphrey Atkins accepted back in July that negotiation was possible but only if the hunger strike was called off.
This and later moves were rejected by the prisoners. Ten inmates have since starved themselves to death in seven months of continuous protest.
Speculation is now focusing on the new Ulster Secretary James Prior. He may be willing to meet some of the prisoner's demands if it is clear that the strike is over.
The strikers have a number of key demands. They want the right to wear their own clothes, the right to refrain from prison work and the right to associate freely between other Republican prisoners.
They are also demanding visits and parcels once a week and the right to have lost remission on sentences restored. These concessions would effectively grant them political status, which the British Government withdrew in 1976.
Father Faul, an assistant Maze prison chaplain believes that if 50% of remission on sentences lost by the republican prisoners for protesting was restored, up to 140 men at the Maze could walk free.
"They have served their sentences and in horrendous conditions," he said.
In Context
The British Government was anxious not to make the Maze a symbolic battleground for hearts and minds.
But a propaganda battle was nonetheless fought. Hunger striker's families appearing on US breakfast TV were notable coups.
Hunger strikers attracted a high level of international sympathy
A contemporary survey of 73 newspapers around the world suggested world opinion was sympathetic to the Republican cause.
In efforts to resolve the crisis both the European Commission of Human Rights and the Roman Catholic Church attempted to intervene.
Deputy Irish PM Michael O'Leary accused Margaret Thatcher of obduracy.
Mrs Thatcher, in a press conference, stuck to her position: "Crime is crime is crime. It is not political."
Sixty-four civilians, police and soldiers died in violence fomented during the strikes.
The Ulster Secretary James Prior did manage to negotiate a package of concessions with the Maze prisoners - three days after the hunger strikes ended.