8.8.05
Hunger striker recalled
Daily Ireland
By Connla Young
c.young@dailyireland.com
Published 8/08/2005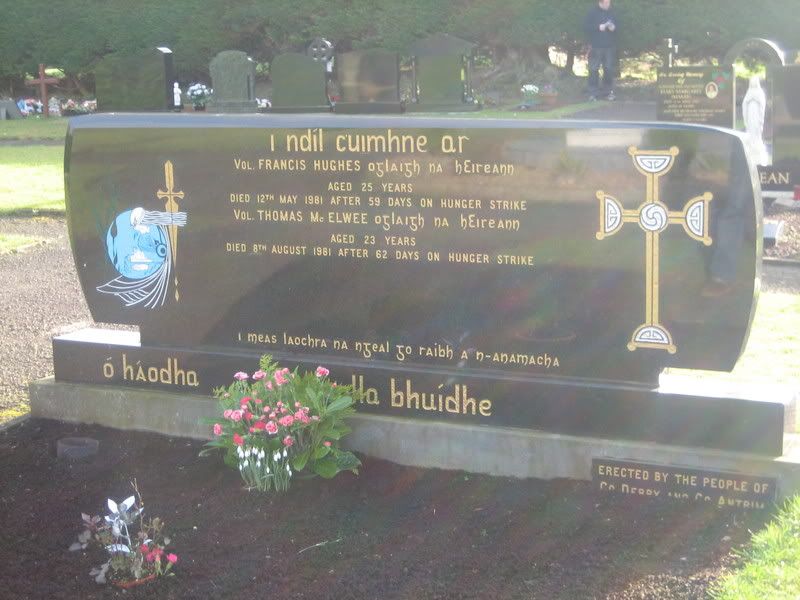 (Photo from Wikipedia)
Republicans from across Co Derry gathered yesterday to mark the 24th anniversary of the death of hunger striker Thomas McElwee.
The 23-year-old died after 62 days without food on August 8, 1981.
West Tyrone assembly member Barry McElduff spoke at the grave in Bellaghy, Co Derry, that Thomas McElwee shares with his first cousin and fellow hunger striker Francis Hughes.
Mr McElduff referred to the ultimate sacrifice made by the two men and their eight comrades.
The Sinn Féin man described the graveyard where the two men lay as a "hallowed place" and spoke of the significance of the hunger strike to Irish people across the world.
"I believe that that the strength of republicans and the popular support they enjoy is largely the result of two waves of support — the hunger strike and the peace process. Both were responsible for injecting momentum into the republican movement," he said.
Mr Elduff said he understood that recent weeks had been an emotional time for republicans.
"I understand that people may feel disoriented and possibly feel a sense of loss at the IRA statement of July 28.
"I urge republicans to continue to develop a questioning culture but one that is rooted in activism," he said.
He said the only legitimate army in Ireland has been the IRA. He also welcomed the British government's decision to disband the Royal Irish Regiment in the wake of the IRA statement.
The Sinn Féin man said he looked forward to a day when elected representatives in the North could take their seats in Leinster House.
"That would be of huge symbolic importance.
"It would effectively make MPs TDs as well.
"It would be important because it will mean the people of the North will be represented in Leinster House.
"Sinn Féin's goal is achieve a united Ireland and an Ireland of equals, and the challenge is to deliver that as soon as possible," he said.
Among those in attendance at the commemoration were members of the McElwee and Hughes families as well as Mid-Ulster MP Martin McGuinness.