14.3.05
Richard O'Rawe
Daily Ireland
Letters

Hunger strike offer controversy rumbles on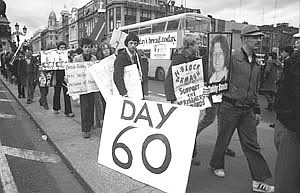 Once again, I find myself having to respond to another attack from Danny Morrison (Daily Ireland, March 9).
I was wrong when I said that Danny was at the meeting in the Sinn Féin centre in Belfast on July 28.
I wasn't there and I assumed when I should have demonstrated. Tá brón orm, Danny.
We now know that it was other republicans who omitted to tell the relatives about the Mountain Climber initiative.
As I say, the basic fact remains — the 1981 IRA external leadership had been in contact with the Mountain Climber on July 4 and again on July 19, and the families were not told about these contacts on July 28 or of the offer that he had made on both occasions.
In fact, had David Beresford not accidentally found out about the Mountain Climber when he was researching his book Ten Men DOn Monday, February 28, Bik was asked by a UTV reporter, "Who took the decision to reject that [Mountain Climber's] offer?"
"There was no offer of that description."
"At all?"
"Whatsoever. No offer existed."
Bik repeated this in a full-page spread in a newspaper.
In Padraig O'Malley's book, Biting at the Grave, the author gives an account of the exchanges between Gerry Adams and the Irish Commission for Justice and Peace that took place at a house in Andersonstown on July 6, 1981.
O'Malley says that ICJP members Father Oliver Crilly and Hugh Logue were sent for by Adams.
According to O'Malley's sources, Adams told them that "the prisoners actually had on offer a better deal than the one the ICJP thought they were putting together".
Again, according to O'Malley, Father Crilly remembers Adams telling him that there was "contact from someone in England working on behalf of the British government and that he [Adams] spelled out 'what this gentleman was offering them [the prisoners]'".
Hugh Logue is on record as saying that Adams, "had in minute detail all the concessions we [in the ICJP] were being offered".
So, Gerry Adams seems to be confirming that there was an offer.
Danny, writing in his Daily Ireland column this week, said, "The [Mountain Climber] offer was, of course, less than the prisoners were demanding".
So Danny contradicts Bik and concedes there was an offer.
David Beresford in his book Ten Men Dead gives an account of the exchanges between the external leadership and the Mountain Climber.
Beresford heard of the Mountain Climber from senior republicans, so his account cannot be disputed. Beresford then goes on to outline a series of concessions that the republican leadership told him was on offer.
Despite all this, Bik is still insisting that there was no offer "whatsoever".
His entire position has been undermined, not only by me but by his allies and the evidence.
No amount of clever footwork or spin by Danny or anyone else will detract from the fact that Bik's version of events has been holed below the waterline.
Bik says that, when he returned to our wing after meeting Danny in the camp hospital on July 5, 1981, he sent me down a comm which said that contact had been made with the Mountain Climber but, according to Bik, "There was no concrete proposals whatsoever in relation to a deal".
After almost two weeks of having to endure a vicious and unprecedented campaign to vilify me, we finally arrive at the point where I'm sitting in my cell reading Bik's comm about the Mountain Climber.
I have said all along that Bik sent me down the offer from the Mountain Climber and that, after considering it for a couple of hours, I called him up to the window and told him in Irish that I believed there was enough there.
He agreed with me.
But Bik says there was no offer "whatsoever".
Adams, Danny Morrison, Beresford, O'Malley, Father Crilly, Hugh Logue and I say differently.
No doubt Danny will be racking his brain in order to counter what I'm saying to rescue Bik.
I don't relish his task.
Richard O'Rawe