9.3.05
Happy Birthday Bobby
Larkspirit
**Bobby's diary - 9th day and his 27th birthday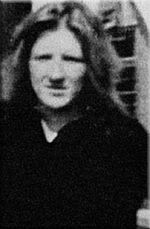 Monday 9th
I have left this rather late tonight and it is cold. The priest Fr Murphy was in. I had a discussion with him on the situation. He said he enjoyed our talk and was somewhat enlightened, when he was leaving.
On the subject of priests, I received a small note from a Fr S. C. from Tralee, Kerry, and some holy pictures of Our Lady. The thought touched me. If it is the same man, I recall him giving a lecture to us in Cage 11 some years ago on the right to lift arms in defence of the freedom of one's occupied and oppressed nation. Preaching to the converted he was, but it all helps.
It is my birthday and the boys are having a sing-song for me, bless their hearts. I braved it to the door, at their request, to make a bit of a speech, for what it was worth. I wrote to several friends today including Bernie and my mother. I feel all right and my weight is 60 kgs.
I always keep thinking of James Connolly, and the great calm and dignity that he showed right to his very end, his courage and resolve. Perhaps I am biased, because there have been thousands like him but Connolly has always been the man that I looked up to.
I always have tremendous feeling for Liam Mellowes as well; and for the present leadership of the Republican Movement, and a confidence in them that they will always remain undaunted and unchanged. And again, dare I forget the Irish people of today, and the risen people of the past, they too hold a special place in my heart.
Well, I have gotten by twenty-seven years, so that is something. I may die, but the Republic of 1916 will never die. Onward to the Republic and liberation of our people.
--------------------
**
Bobby would have been 51 today. Last year I found a few articles which I will re-post today for those of you who haven't seen them. In some cases, the old post links don't work anymore.
Irish Prisoners of War - NORAID Online
Irish Hunger Strikes 1980 & '81Chapter 19The First Weeks:
Bobby's Final Birthday Party
Francis Hughes Joins the Hunger Strike
On February 28, 1981, Bobby Sands ate a small, bitter orange in a cold H-Block cell. It was the last morsel of food he would ever taste. That night he began writing a diary of his experience on hunger strike. "I am standing on the threshold of another trembling world. May God have mercy on my soul," he wrote on a piece of toilet paper.
He also wrote on a cigarette paper the lyrics of a song he had written years ago while on remand and sent it on to a friend, Ricky O'Rawe, who had taken over as public relations officer for the republican prisoners. He called it "A Sad Song for Susan."
It ended like this: "And I wish I had you back again to when you were here/ Remember the Winter nights when you warmed me from the cold/ And the Spring when we walked through green fields and skies of gold/ You're gone, you're gone, but you live on in my memory."
It might very well have been written about himself and now he is only a memory. Perhaps he was saddened by his own loss of loved ones, a son and wife he hardly had the time to have anything like a normal life with, his sisters and brother, and his parents, as he faced an unknown eternity.
Support on the Falls
It was a cold Sunday on the Falls Road as well. Sinn Fein organized a march down the Falls to demonstrate support for the hunger strike. Four months earlier there had been 10,000 people showing their support for the first day of the first hunger strike. On this Sunday, there were perhaps thirty-five hundred demonstrators. The Movement would have to start all over again to publicize the plight of the men and gather support for the new hunger strike. But now it was ground minus zero. The people were distressed by the failure of the first hunger strike to move the Brits an inch towards the five demands and off of their criminalization policy. They were wearying from months of rallying around the H-Block/Armagh Committees and being harassed, beaten, arrested, shot, and even murdered for their activism. And they knew they had to get geared up to do it all again. On a cold, late winter Sunday in the north of Ireland, this wasn't an easy thing.
That's why Bobby knew for a fact he was going to die. He knew the mechanisms of popular support couldn't be turned on without a blood sacrifice, much like the sacrifice of the men of 1916 was needed to open the eyes of the people of Ireland. He also knew the Brits needed a message that even they could not misunderstand.
In a little over two months, there would be 100,000 mourners following his coffin down the same Falls Road in West Belfast to Milltown cemetery.
The First Weeks
On Bobby's 5th day on hunger strike a comm was sent out to the Movement: "Bobby's weight today is 62 kg. His heart beat is 88 and blood pressure 112/70. He requested blankets. Said he felt the draft coming in the windows."
He was experiencing no side effects from the fast, except an unnatural craving for brown bread, butter, honey, and cheese. And naturally the screws came with heaps of steaming food three times a day to torture him. His cell mate, Malachy Carey, had a regular feast.
But by Friday of the first week he was feeling occasional bouts of energy loss. By Saturday, he had lost three kilograms.
On Monday, the 9th of March, he turned 27 years of age. He weighed 60 kgs.
"Comrade, how are ya? I'm still in the wing with the lads and how long that will last is uncertain. I'm feeling physically all right, I've no headaches or even minor medical complaints. There are I believe several tactics being deployed at present, foremost is I believe a deliberate policy of false disinterest that is 'we couldn't care less' type of thing to make me feel small or insignificant and to try to create the impression in my mind that the hunger strike is merely confined to my cell," he put in a comm on his birthday.
"Let me or anyone else die..."
He sent out another comm on March 9th that showed how worried he was that an unacceptable deal would be struck to save his life, which had happened through deception and bad faith four months previously:
"As you know, I don't care much to entering into any discussion on the topic of 'negotiations' of for that matter 'settlements' but what is worrying me is this: I'm afraid there is a possibility that at a crucial stage [which could be death] that Brits would move with a settlement and demand Index [prison chaplain Fr. Toner] as guarantor. Now this is feasible, if a man is dying, that they would try to force Bik to accept a settlement to save life which of course would be subject to [Fr. Toner's] interpretation. And we know how far that would get us. It wouldn't make any difference if it were he and Silvertop [ass't chaplain Fr. Murphy], the same would occur. I've told Bik to let me or anyone else die before submitting to a play like that..."
Bik Faces An Unenviable Job
Bik McFarlane, the new OC, in essence commanding all the logistics and strategy for the hunger strike inside the prison, knew exactly what he had to do, although he wasn't happy about it. In a panel discussion in Derry City in January, 2001, almost 20 years after the events of the hunger strike, he told a stilled audience how he went to Bobby asking him to select someone else to be prison OC. He told him how there were others more capable and closer to him on a personal level. Why not pick one of your friends? Bik wanted to know.
Bobby told him, "Because they won't let me die." And Bik would have to.
A Final Birthday Party
That night, after the news from the various prison blocks was shouted across the wings and courtyard, including Bobby's present weight and general health, D wing roared in unison and in Irish, "Happy birthday, Bobby!"
The celebration consisted mostly of a concert or "singsong" in Bobby's honor, which featured several of Bobby's own songs, "Back Home in Derry", sung my himself, and "McIlhatton" sung by Bik accompanied on the bodhran drum [rather, the steel cell door]. There was a whole evening of songs, requests, poems and whistled music.
On the 14th of March, Bobby weighed 58.25 kgs and his vital signs were normal. "The screws turned his cell lights on 3 times last night waking him on every occasion: 10 pm, 2 am, 6 am...," a smuggled out comm said.
He tried to write poetry, had plenty of ideas and thought it would help him face each day and ward off negative thoughts of the crisis days ahead, but he couldn't. He was just too tired and he needed to conserve energy. He stopped his hunger strike diary after the 15th day.
The Man From Tamlaghtduff
On Sunday, the 15th of March, 1981, Bobby was joined on hunger strike by one of the greatest heroes of the conflict, Francis Hughes, of South Derry. He was captured after a intense fire fight with the SAS almost two years previously to the day. Francis lead the British army on a wild and bloody ride for years in his home land of South Derry that usually ended with Brit casualties and with Francis slipping through, around or behind hostile lines of soldiers. He was one with the hills. Taking in the odds never seemed to be part of his calculations when engaging the Brits. Sometimes he simply attacked whole squads arrayed to capture or kill him, turning an aggressive British operation into a full retreat. Francis Hughes was a legend. He was 23 years of age when he was captured; he was 25 when he died. Chisty Moore wrote a popular song about Francis, "The Boy From Tamlaghtduff":
Moving round the countryside he often made the news
But they could never lay their hands on my brave Francis Hughes.
Finally they wounded him and captured him at last.
From the countryside he loved, they took him to Belfast.
On from Musgrave Park to Crumlin Road and then to an H-Block cell,
He went straight on the blanket then, on hunger strike as well.
His will to win they could never break, no matter what they tried.
He fought them every day he lived and he fought them as he died...
--------------------------
Irelandclick
Happy birthday, Bobby
Bobby Sands could have stepped aside. Nobody made him do it. He could have stopped at any time. He could have succumbed to fear of the unknown, the fear of death. He could have placed the possibilities of a future life before the realities of his present existence.
But he didn't.
From his writings it is apparent that he believed every other alternative had been exhausted. He simply had to do it.
If he had simply stopped or walked away or turned his back, then he could well have been celebrating his fiftieth birthday tomorrow, Tuesday, March 9. Instead, after spending most of his adult life either interned in the Cages or on the blanket in the H-Blocks, the twenty-seven year old died following a hunger strike that lasted sixty-six days, on May 5, 1981.
Nine comrades followed him to death. Many more also embarked on the hunger strike and some--like Pat McGeown--died prematurely from the after-effects of the protest.
In basic terms, Bobby Sands had been protesting that he and his comrades should receive the same political status while imprisoned in the H-Blocks that they had been accorded while imprisoned in the Cages.
At the stroke of a pen, after March 1, 1976, the British government attempted to label anyone convicted of a conflict-related offence from that date onwards as an "ordinary criminal." In real terms, however, the British government turned the issue into a battle of life and death.
And while Bobby Sands and nine others lost their lives, historians now agree that Margaret Thatcher and her government lost the battle. For weeks afterwards, the death of Bobby Sands had an immense international impact.
All British ships were boycotted at US ports for twenty fours hours by the Longshoremen's Union. Members of the Portuguese parliament held a minute's silence in his memory. A street was named after him in Tehran.
Protest demonstrations were held across the world-- from Milan to Chicago, from Oslo to Brisbane. His face appeared on the cover of newspapers across every continent of the globe and he became a symbol of power for oppressed people everywhere.
However, despite all the iconography associated with Bobby Sands, it is sometimes forgotten that he was also a son, a brother, a father and a friend. One of those who knew him best as a comrade in the Cages and the H-Blocks is Seanna Walsh.
"I first met Bobby in January 1973 when we were in the same Cage and he had that cocky Belfast dander and a Rod Stewart haircut.
"Back then in jail, birthdays weren't really a big thing--they were more a family thing and the only way you might have known it was someone's birthday was when they got a clatter of cards from their family.
"I know Bobby's family will be feeling it very much tomorrow and it will be hard for them.
"Having said that, it is an opportunity for Bobby's wider family of republican comrades to give thought to it as well," said Seanna.
Describing Bobby Sands as a "mate who enjoyed a bit of craic and slagging," Seanna joked that he was "the only person inside to support Aston Villa--God help him."
Pointing out that many families go through the same experience of remembering the birthdays of deceased loved ones, Seanna said: "It would have been Joe McDonnell's fiftieth birthday four years ago, but Bobby, probably because he was the first to die, has become this larger than life figure and tends to stick out more.
"There is one thing I can't get into and it is this: in terms of where Bobby would stand in relation to the current political situation, I simply don't know. Nobody does.
"Sometimes comrades who disagree with things ask me what Bobby would think. The answer is, we just don't know and I would never try to misrepresent him.
"All I know is that the role I am playing in the struggle is part and parcel of the same struggle that Bobby died for, and those of us engaged in that freedom struggle are determined to continue," said Seanna.
Journalist:: Jarlath Kearney
------------------------------
Bobby at 50 - BY JIM GIBNEY
It was 18 December 1980. It was late afternoon. The phone rang in the Mountjoy Square office of the H-Block/Armagh Committee. It was Gerry Adams. In a hushed but firm voice he told me to ring him from a pay phone in the street. I did. "The hunger strike is over. Can you come back to Belfast?" he
said. The news shocked me. I had been in Dublin for several months building support for the Hunger Strike and now it was suddenly over. Over without prior warning.
I was at a loss as to what t do, what to say. But I knew it would soon be on the radio and TV news and the people in the H-Block/Armagh office had to hear it from me before they heard it over the airwaves.
We gathered around the office in a sombre mood. These were the people who had campaigned tirelessly, who had helped to build a national movement to support the prisoners' cause over the previous two or three years.
I told them what Gerry told me. There was a mixture of disbelief that the Hunger Strike was over and relief that no one had died; people had tears in their eyes.
Five years of campaigning, six weeks of a Hunger Strike... now ended, confusion reigned.
The following day back in Belfast, I met Gerry in a house in Clonard owned by lifelong republican Alfie Hannaway.
I was shown a comm written by Bobby Sands that had come out of the prison the previous day. The following sentence stuck out: "I will begin another hunger strike on the 1st January." "What? We can't go through that again," I blurted out
And that was the sentiment, obviously more considered, that I was to tell Bobby the following day. A visit had been arranged for me with him.
Danny Morrison who had been the outside contact for the prisoners during the Hunger Strike had been banned from the jail a few days previously by the British Government and I had been selected to replace him.
I waited in the visiting area for Bobby not knowing what to expect. I hadn't seen him since we were both in the Crumlin Road Jail three years previously.
He literally bounced towards me with a smile on his face and his hand stretched out. I hadn't seen him coming into the visiting area.
He looked tired, his eyes were red rimmed and the years of brutality were obvious in his gaunt features and bedraggled long hair and beard.
With two prison warders hanging over his shoulders, we engaged in an intense conversation.
He was adamant that another hunger strike should begin on the 1 January and that he would lead it. He had others lined up to join him.
I put the leadership's views and he listened carefully, shaking his head in disagreement occasionally. Time up, we embraced and parted company. He was to consider what I said, consult with others inside and communicate the views to the leadership outside as soon as possible.
The next time I saw Bobby he was on hunger strike. I would see him several times before he died.
I reflected on all of this last Friday when I heard that Bobby's 50th birthday would have been on Tuesday past.
I didn't know Bobby any way well. Our paths crossed fleetingly on the outside and the inside. I visited him with his family several times when he was dying on hunger strike.
My memory of him from the days in the Crum, more than a quarter of a century later, is of a man who was a bundle of energy, always thinking, always conspiring, constantly trying to outwit the prison authorities.
We met in cells or prison vans, he was always on his hunkers. I was never sure of his height until I met him a few days before Christmas 1980. He was average height.
Bobby's death on hunger strike, the written works he left behind him, his status as an MP for Fermanagh/South Tyrone, the fact that he led the hunger strike, was the first to die, his youthful, revolutionary image captured in his portrait - all of these facts have contributed rightly to making him a national and international symbol of freedom and justice.
For those who don't know, it is understandable that they see only Bobby and what he stood for. It is enough for them and for us that they are motivated to do good works as a result of admiring the stance that Bobby took.
But those of us who were there or close to events surrounding the second Hunger Strike and who know, should always tell the whole story or as much of it as involves us on occasions like now.
Because 23 years later, on Bobby's 50th, we are not just recalling his heroism, we are also remembering his comrades who also died on hunger strike: Francis, Raymond, Patsy, Joe, Martin, Tom, Kieran, Kevin and Mick and their families.
Bobby is the public face of this group of martyrs and their families. His image embodies each and every one of them because they all faced what he and his family faced - the daunting decision to cross over the line between life and death. His family stood with him as theirs did with them in their time.
In acknowledging, we are not forgetting about Frank Stagg or Michael Gaughan, who also died on hunger strike, or indeed any of the other IRA volunteers who lost their lives in the conflict.
We are recognising that the H-Block martyrs and the struggle for political status there and in Armagh women's prison turned this struggle around, put it on a higher moral plane and pushed us in a new political direction.
On your 50th Bobby, thanks.
© 2003 Irish Republican Media