10.3.05
The Diary of Bobby Sands
Larkspirit
**Bobby's diary - 10th day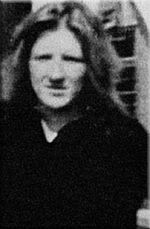 Tuesday 10th
It has been a fairly normal day in my present circumstances. My weight is 59. 3 kgs. and I have no medical problems. I have seen some birthday greetings from relatives and friends in yesterday's paper which I got today. Also I received a bag of toiletries today.
There is no priest in tonight, but the chief medical officer dropped in, took my pulse, and left. I suppose that makes him feel pretty important.
From what I have read in the newspapers I am becoming increasingly worried and wary of the fact that there could quite well be an attempt at a later date to pull the carpet from under our feet and undermine us -- if not defeat this hunger-strike -- with the concession bid in the form of 'our own clothes as a right'.
This, of course, would solve nothing. But if allowed birth could, with the voice of the Catholic hierarchy, seriously damage our position. It is my opinion that under no circumstances do they wish to see the prisoners gain political status, or hing resistance the 'terrible silent system' in the Victorian period in English prisons. In every decade there has been ample evidence of such gains to all prisoners due to Republican prisoners' resistance.
Unfortunately, the years, the decades, and centuries, have not seen an end to Republican resistance in English hell-holes, because the struggle in the prisons goes hand-in-hand with the continuous freedom struggle in Ireland. Many Irishmen have given their lives in pursuit of this freedom and I know that more will, myself included, until such times as that freedom is achieved.
I am still awaiting some sort of move from my cell to an empty wing and total isolation. The last strikers were ten days in the wings with the boys, before they were moved. But then they were on the no-wash protest and in filthy cells. My cell is far from clean but tolerable. The water is always cold. I can't risk the chance of cold or 'flu. It is six days since I've had a bath, perhaps longer. No matter.
Tomorrow is the eleventh day and there is a long way to go. Someone should write a poem of the tribulations of a hunger-striker. I would like to, but how could I finish it.
Caithfidh mé a dul mar tá tuirseach ag eirí ormsa.
(Translated, this reads as follows):
Must go as I'm getting tired.